Our Marriage Story
Our Marriage Story
Minutes before boarding the plane from Dallas to San Francisco, a man collapsed just feet away from the jetway. I didn't have the chance to see his face, but Thomas told me the man appeared to be in his early seventies. My ears heard what my eyes didn't see, as a loud "thump" was followed by a crowd of people surrounding a lifeless body. What I did see was the expression of a woman who watched numbly as her husband breathed his last breaths. It took at least ten or so minutes before medical professionals made it there with a last attempt at saving the man by means of electric shock, as clearly, the CPR administered by bystanders had not worked.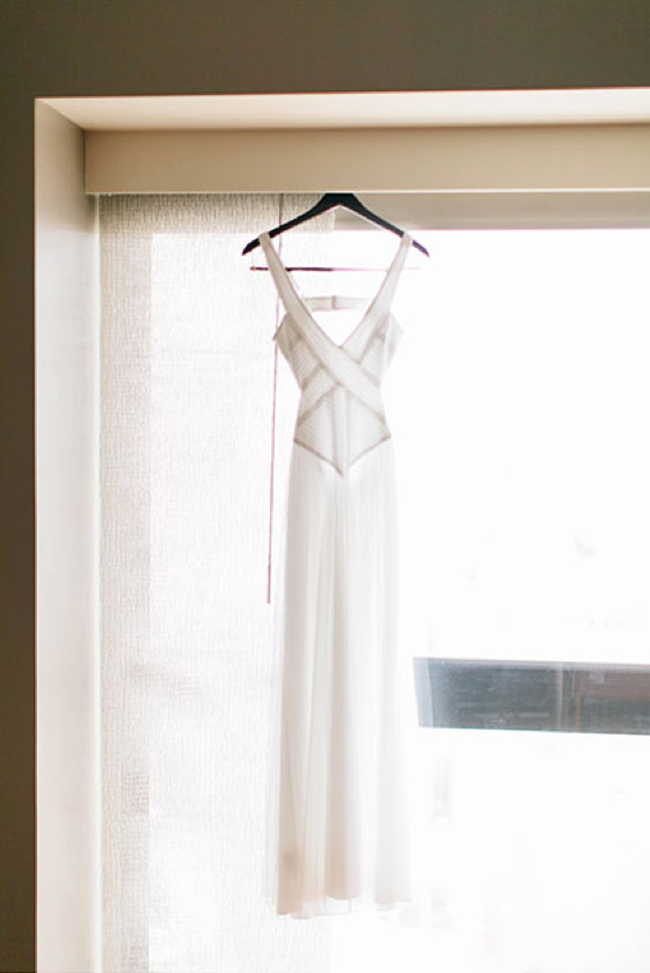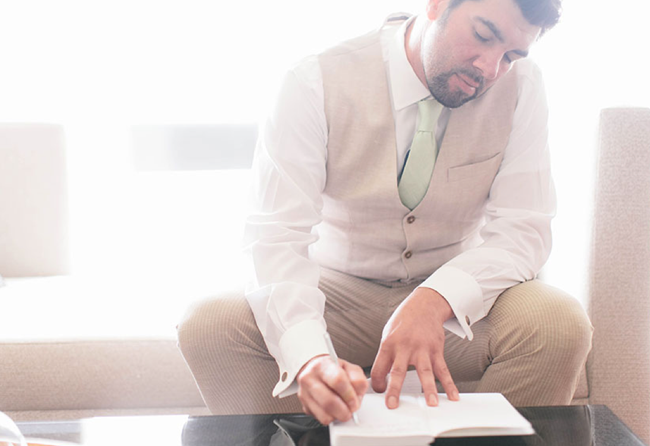 A New Chapter
We were on our way to start a new chapter together, and someone else's book had just ended. If there were times in my life when I thought twice about getting married, this was not one of them. Life has a funny way of allowing the brain to think clearly in moments of chaos. For the first time ever, I knew exactly what it would mean to be someone's wife. We boarded the plane, and I took one last glance at the woman who had just shared her last experience on this earth with her husband. That morning was the last time they would get ready together. The airport was that man's final landing place. His last minutes were spent, ironically, in the terminal of that airport.
Thomas and I got engaged at the Austin airport in April. It couldn't have been more fitting, because my Dad was a pilot. Thomas hadn't even thought of this coincidence when he planned out the best place to pop the question.
Let me backtrack just a little bit more...sorry, this story is unfolding out of order, but as I type, more and more coincidences are coming to mind. The night before we left for San Francisco, the sweet couple who is renting out our house (also good friends of ours now) insisted that we come over. They were taking us to the airport the next morning, and the idea of staying in the place we had spent years making into a home one last night before we became Mr. and Mrs. made perfect sense.
When we got to the house, we were greeted by not one, but two sweet couples who had made plans to take us out for one last night on the town. The six of us piled into a truck and headed downtown to one of our favorite places - a street full of eclectic houses that have been converted into quaint bars & eateries. The guys headed in one direction, and the girls treated me to several vodka tonics that were soon followed by lots of laughter (and a few tears that allowed these new friendships to blossom in the Texas heat). What's strange is that the song that played during our engagement (and in the video that Thomas had created) was playing in every single bar we entered. This half-Panamanian pal of mine was hand-picked by someone who knew long before either of us that we were meant to be together.
*Side note: We're both half-Panamanian. Thomas' mother is a native of Central America, as is my father's side of the family. I've never met his mother, but a relative of mine, who is also someone I've never met, ran into one of Thomas' relatives at a resort in Panama several years back. To take that a little further, my maiden name is Lindo, and Thomas' last name is Lundy. I got the hispanic last name and the white girl genes, while Thomas got the dark features and white boy last name. This name change thing is proving to be a breeze, in case you're wondering. Lindo -> Lundy. My signature actually stays exactly the same...chicken scratch.
Alright, back to the story of our elopement...
After our flight was delayed, we finally made it to San Francisco, where we were greeted with champagne and a note from my siblings in the most bad ass hotel room we'd ever seen. It was incredible. We could see all of downtown from our living room, which was perched on the 34th floor of the Grand Hyatt (thanks, Annie + crew!). Have I ever mentioned that I have a crazy awesome family? Yes, they're equally crazy and awesome at the same time. That's a completely different story that will have to wait, for now. : )
Okay, so we're in this awesome room, it's already pretty late, and we only have a few hours until we have to wake up and put on wedding attire. No vows have been written at this point, and I was struggling to keep my eyes open. The beautiful city of San Francisco was waiting to be explored, but it was already dark outside and we had a big day ahead of us. My eyes closed for about an hour until I, not surprisingly, woke up to the smell of the hefty room service order that Thomas had placed: pizza, wings, clam chowder, and beer. We spent little to no time at the gym before the big day, because...well...why work out when you can EAT instead? (If dimples show up in pictures on places below our faces, I've got mad Photoshop skills.) Aside from that, we were busy getting our house rented out and moving to a different city, both of which happened two weeks before we left to exchange vows.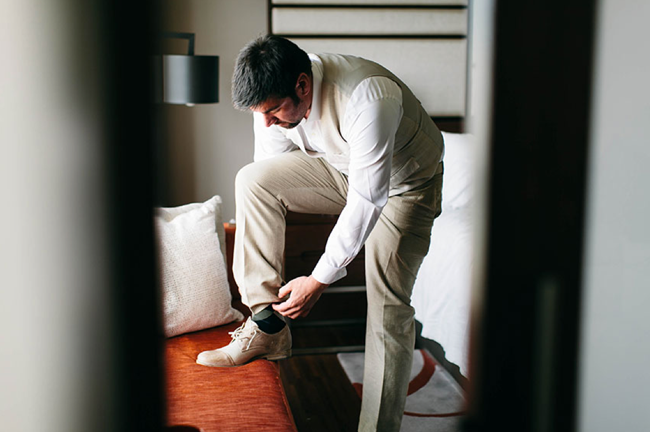 My dress and shoes were picked out in a single shopping trip to a single store a few weeks before the wedding, where I tried on a total of two dresses (same dress, different sizes) - all while Thomas was present. Our friend and amazingly talented photographer, Denise Birdsong-Zavala, found us a florist that created the perfect air plant bouquet and boutineer, which we saw for the first time the morning of our wedding. We discussed hair and makeup ideas an hour before the ceremony, compliments of the makeup extraordinaire, Mo. Thomas went from super handsome to "cover of GQ candidate" in about ten minutes, all while Denise and Christian, our talented videographer, documented every detail.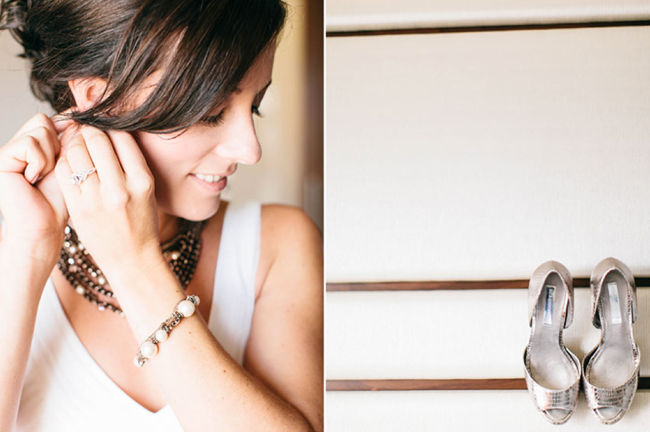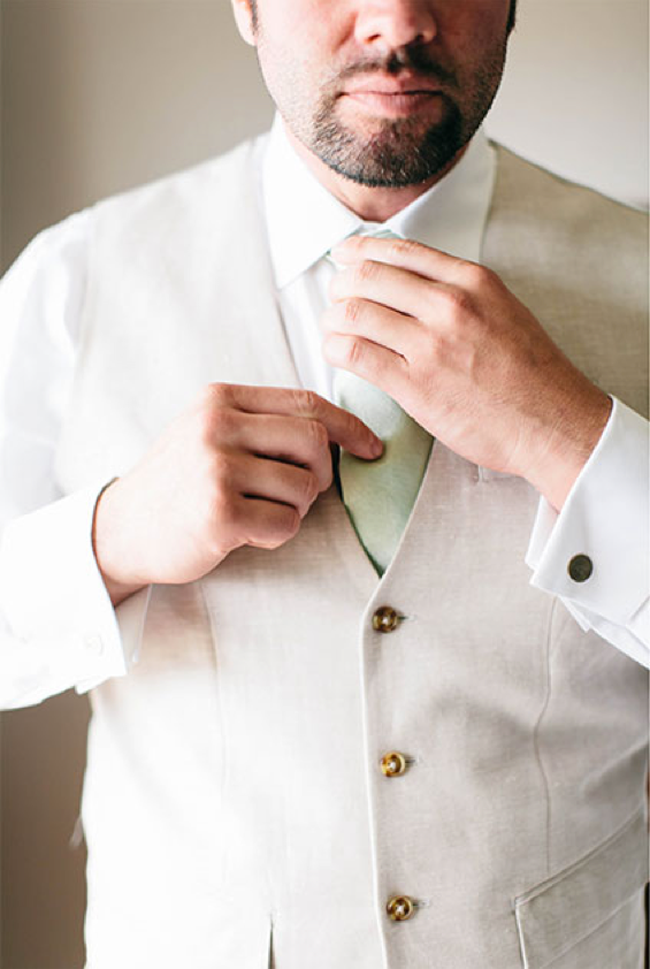 Thomas laced up his shoes, which were picked out by Yours Truly, then he helped me get into my dress. I know, I know...this goes against every rule in the book of wedding etiquette, but it was one of the sweetest moments we've ever shared together.
We were with each other every step of the way as we walked up the staircase that led to the most beautiful, intimate space of the City Hall in which we said "I do." The vows were standard and quick, and I couldn't even tell you the name of the Judge who married us. The best part is that none of that mattered. Not then, and not now. We have the rest of our lives, no matter how long or short those might be, to tell each other every day exactly how we feel about one another. The journey to get to this point in our lives was not always pretty, and we both made plenty of mistakes along the way. What's great is that with each decision we've made, we have taken a step back and reflected on how we could learn from it. Our marriage didn't happen the morning of 9.19.12 - it is something that's been happening over the past six years and everything that will happen in the weeks/months/years to come.
We know many of you wish that you could have been there for our actual wedding/non-wedding, but what's more important to us is that you share in our everyday lives instead. Tell us your stories. Lend us your words of wisdom. Thomas and I hope to keep growing both individually and together, and we realize that a healthy relationship sometimes requires the support of a small army. As Uncle Sam stated, "We want YOU!" Not only do we want you, but we need each of you to pour out your love and support when we need it the most. Whenever you need us, we promise to do the same.
A marriage happens in all of the moments shared privately, those shared publicly, in good times and in bad, and in all the moments in-between. This is just the beginning. You were all right there with us in spirit as we solidified a love that's been everything but conventional, yet anything but mediocre.
Thank you so much for your beautiful artwork, Denise, Mo, and Christian. We were so fortunate to have the three of you there on the most important day of our lives. Thank you, Mom, for showing your children what unconditional love truly looks like. Thank you, Dad, for passing on your sense of humor and strong will. You are greatly missed, yet often found in unexpected places. I know you were there right beside us as you gained a great new son-in-law. Thank you to our friends and family who have helped guide us through the rockiest of times, and thank you to those who have celebrated with us during the best of times. You mean the world to us!
With all of our love,
Mr. & Mrs Lundy