DIY Beer Dinner Menus
My husband recently teamed up with Breckenridge Brewery for a beer dinner at his restaurant, so I jumped all over the menu creation. Initially, I thought I'd create the digital design and send it on its merry little way to the printer, but then I started craving a good hands-on project. The DIY beer dinner menus turned out to be so much cooler than anything I could have sent off to the printer! I knew I wanted something with metal fasteners at the top, and the small quantity of menus needed would quickly turn into an expensive job at the printer. Since there was quite a bit of text to work with, I split up the content on two separate pages, layering the cardstock to give the pieces some dimension.
Here's how I created this look:
Materials needed:
-hammer -corner rounding tool -hole punch -grommets -grommet setter -thick cardstock -paper trimmer or x-acto knife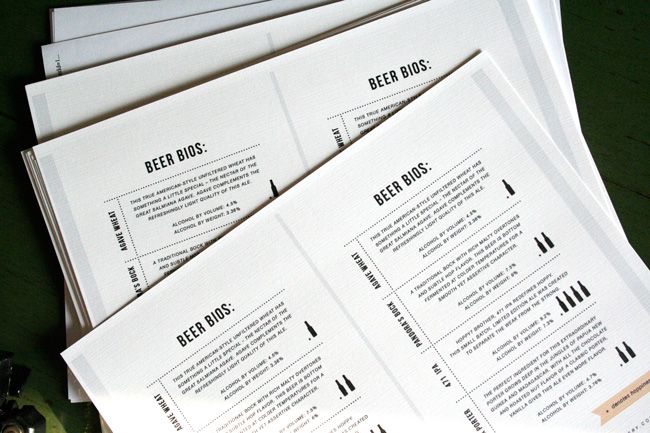 DIY Beer Dinner Menus
Instructions:
1. Create your menus in the program of your choice (I use Adobe Illustrator, but you could easily create something similar in Word, Pages, etc.). 2. Print out your menus. I was able to fit two designs on each sheet of paper, with the top layer of the menus measuring at 5 x 8 and the bottom layers measuring at 5 x 8.5.3. With a paper trimmer or x-acto knife, trim around the edges of your menus.4. Round corners.5. Line the two layers of your menus up and punch holes about 1/3" - 1/2" from the top of the cardstock.6. Place grommets in the punched holes and use a hammer to set the eyelets. Brads are a good alternative, if you don't have access to grommets.7. Enjoy your dinner, and be sure to take plenty of pictures of your fabulous creations!

Everyone loved the souvenirs they got at the end of the dinner. It's the little things that count...